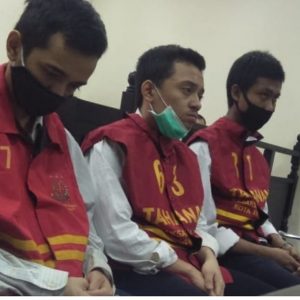 [SCROLL DOWN FOR ENGLISH]
Kabar Tahanan Anarkis Tangerang dan Bekasi;
Selasa, 18 Agustus 2020. Sidang ke 13 untuk 3 kawan kami MR, RJ, RI, dengan agenda mendengarkan keterangan saksi.
Saksi memaparkan soal kekerasan yang dialami terdakwa saat penangkapan serta praktik pelanggaran prosedur yang dilakukan oleh polisi, seperti keluarga terlambat menerima surat penangkapan, penggeledahan, dll.
Sidang selanjutnya akan dilaksanakan pada hari Selasa, 25 Agustus 2020
Hadir dan beri dukungan! Tidak ada yang setimpal selain vonis bebas!
Bangun solidaritas tahanan anti otoritarian!! Sekarang atau tidak sama sekali.
[English]
Tangerang and Bekasi Anarchist Prisoners Update News;
Tuesday, August 18, 2020. The 13th trial for our 3 friends MR, RJ, RI, with the agenda of hearing witness testimony.
The witness explained about the violence experienced by the defendant during arrest and procedural errors committed by the police, such as the family being late in receiving an arrest warrant, searches, etc.
The next trial will be held on Tuesday, August 25, 2020
Come and give support! Build anti-authoritarian prisoner solidarity !! Now or never.
Free all anarchist prisoners!!